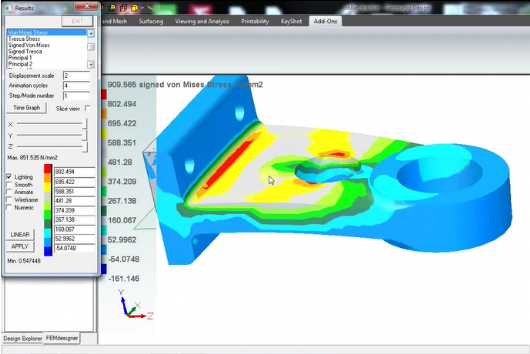 FEMforAD Addon for Alibre Design
Fully integrated FEA simulation to
Alibre Design
MCAD software
, including elasticity, assembly contact, plasticity, heat transfer (steady-state & transient), modal, dynamic, buckling and thermal stress analyses. For versions 19 to 26 and Atom3D
.
All meshing, loading, solving and viewing of results are done directly on the Alibre model, using Alibre controls, to substantially ease the iterative design loop between model and analysis.
Default meshing gives proven, quality results but there is local mesh control for more rigorous
design work. The help file introduces beginners to FEA and how to use the simple interface to create a mesh, add materials, apply loads, solve and plot the results.
Still Not Sure?
Have a free 28 day trial first.
Upgrading
The addon is now fully contained in a folder called 'FemforAD', placed in the Alibre Design 'Program/Addons' folder. Alibre finds it there on startup and adds the 'Femdesigner' ribbon bar to the main menu. If upgrading Alibre using the 'side-by-side' option just move the FemforAD folder to the new Addons folder. Otherwise move it
to a temporary location before upgrading.